The Guardian kindly offered us a seasonal selection of what they called, quaintly, "screensavers". They're not, they are desktop pictures, but never mind. So I chose this one
which looked marvelous projected up in between our xmas viewings. We started off watching the rather bizarre little film Love of a Kind, then we ate some Chinese food, then we settled down for the main event which was The Girl With the Dragon Tattoo. This, courtesy of one of the mystery Kirsties who I have mentioned before, and who like being mysterious, so mysterious they remain. Anyway, she'd sent me the set, and as it turns out it is the set I would have preferred anyway, featuring, as it does, Swedish with subtitles. We are now a third of the way through and thoroughly hooked.
I will now be changing our so-called "screensaver" to Cornelia Parker's one.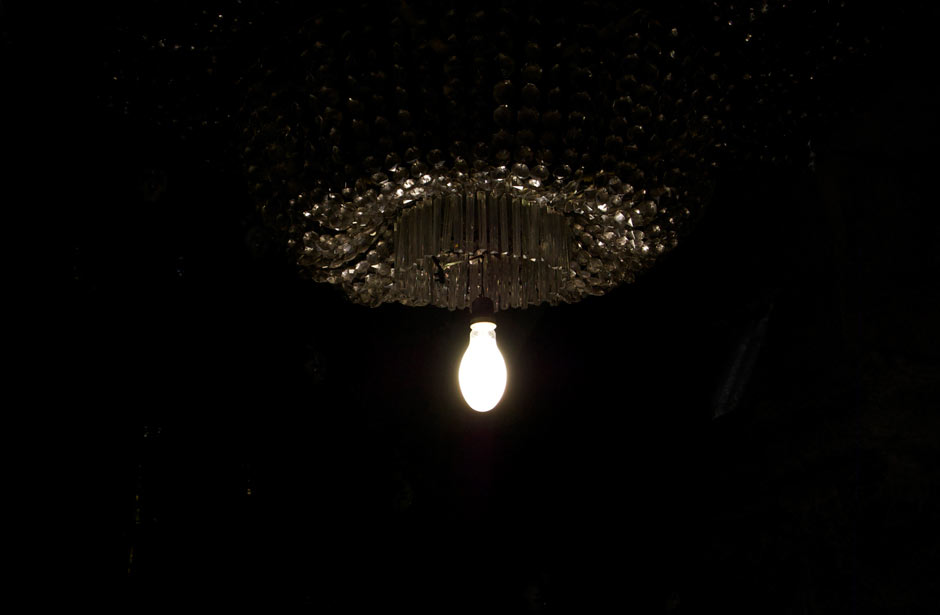 which will be less festive, but which I think will look super nice projected up.
***
Now then, though, I didn't tell you what happened before that. We were taking the dog a festive walk to the chemist (I am awaiting, nervously, a shipment of triptans, which I knew I would run out of during the festive, bank holiday littered, season. And Lo, it has come to pass. I am now mid migraine and have officially RUN OUT.) Anyway, a guy with a dog said he'd seen a dog around without an owner and he asked us to keep an eye open. We found the dog and took it home. Poppet liked the little girl, and they played all along the towpath – until new dog FELL IN! It's just as well we are on flood alert, because Ten managed to drag her out. We went home, dried off both dogs, fed newdog, then went back to try the chemist (who said to phone him on Thursday – I am on sodding tenterhooks, here) whereupon this guy said she was his dog and we had to give her up. I was quite sorry, her and Pops got on so well, and he seemed ill equipped to be looking after two dogs. He hadn't brought a lead out for her and dragged her by the collar, and she did properly flinch at one point… still, nowt to be done.
***
And finally, our Amy of Lucy's Football posted a link to something truly frightening.
A whole collection of 10 scary santas. In a fight against scary clowns I think the scary santas would have pretty good odds. And that is saying something.
I leave you with David Sedaris reading Six to Eight Black Men, which seems topical on more than one front right now.